I'm another Disney deeper.
If you're following "The List" you'll notice I've skipped a few titles. Victory Through Air Power (1943) is an actual propaganda documentary for WWII touting aerial warfare strategy, and is not available on Disney+ or (from what I can tell) any other streaming service. Make Mine Music (1946) is an animated film featuring a group of cartoons, one including a singing whale. It is not available for streaming either but I may need to dig deeper for a copy of this one because it actually has some childhood sentimental value and I would LOVE to watch it now to write about it! Song of the South (1946) is not available for streaming anywhere, and I will not be seeking it out. I will be posting about it, but not today!
Today is for the bright and cozy, Fun and Fancy Free, and I got the family to watch it with me! By family I mean my husband, who is so sweet to enthusiastically oblige with this endeavor, my one year old, who ran around the living room for a lot of the film, but actually layed on my lap invested in the last 20 minutes or so (and if you know a one year old, you know that's a big deal), and my teenage son, who sat next to me on the couch on his phone for about 15 minutes while the movie was playing (again, actually somewhat of a big deal).
Fun and Fancy Free fits right in with the other Disney offerings from the '40's, following the "package" feature-film style. Disney released a handful of these partly animated, partly live-action films during and after WWII. Fun and Fancy Free has two cartoons, the tale of "Bongo" the circus bear, and "Mickey and the Beanstalk". What comes before and after both cartoons is a mixture of live action absurdity and a cameo from an old animated friend. Out of all the package films that came before (Reluctant Dragon, Saludos Amigos, Three Caballeros), I can eeeeeeeeeasily say this one is my favorite.
Mickey Mouse, Jiminy Cricket, and…. dummies?
Mickey and The Beanstalk
What I can tell you about Mickey and the Beanstalk is, it had a little bit of everything that a full length animated Disney film has, and I would gladly watch it again. A few details…
The Singing Harp- Could she have been Tinker Bell inspo? Do you see it!?
Mickey, Donald, and Goofy as a trio for the first time in a feature film! And I gotta say, I'm into this Mickey more than Sorcerer Mickey. We are given more to work with, his desires and motive, his struggles and success. He's tenacious, resourceful, and sharp.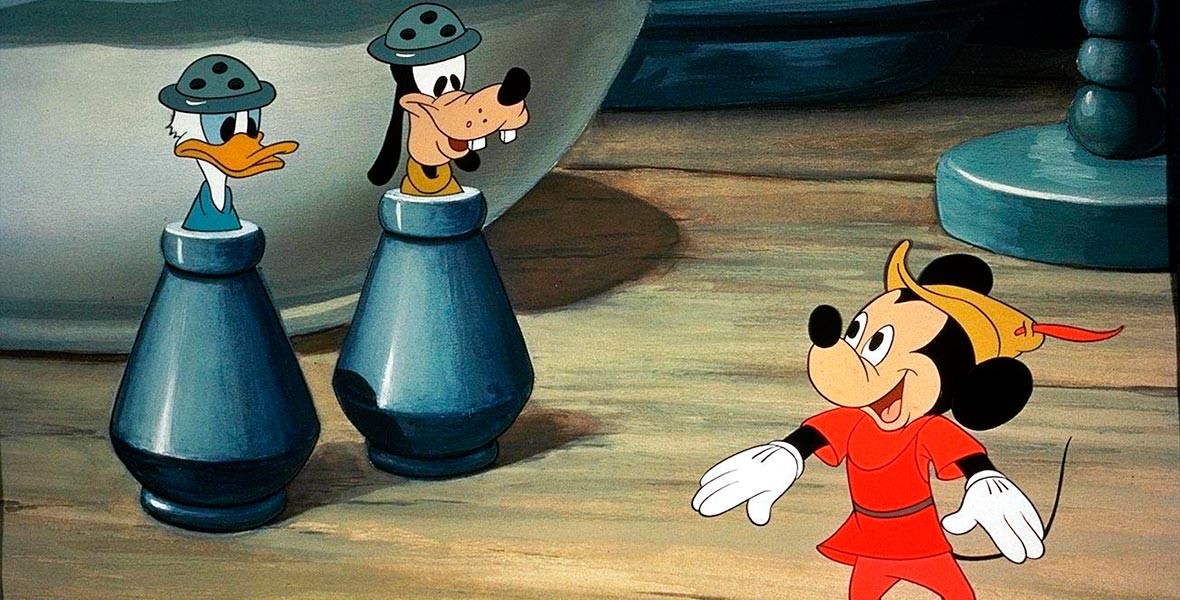 What is missing from this post is analysis for Bongo, and here's why. It was easier to invest in the characters from Mickey and the Beanstalk because they're familiar. We know them. And for shorter cartoons like this where the character arc is not as long, I find it easier to fall in to step with the ones I already know. When the character is foreign to me, I tend to not invest as deeply in what's transpiring on screen. This is how I felt about Bongo, which is why I don't have a whole lot to contribute about it. It was cute, it kept my interest, but did I grow to love Bongo as a character? Ehh… Mickey, Jiminy, and the dummies are where it's at for me on this one.
Jiminy Cricket
Jiminy Cricket! Jiminy Cricket!? Yes. Jiminy Cricket living outside of Pinocchio-land. I had no idea he would be there and at the risk of sounding like a huge dork I have to say, it felt good to see him! Like a little piece of your soul, he's there to carry you through the film. Not quite a narrator, not entirely a conscience, but a familiar tour guide through the film, at times even kicking back and watching right along with you. His song, "I'm a Happy-Go-Lucky Fellow" was one of the highlights of the entire film.
The Dummies
If you have a flair for anything campy, slightly weird, and unintentionally ironic, you will love the live action portion preceding Mickey and the Beanstalk. To begin the second half of the film, Jiminy Cricket receives an invitation to a party. I thought, "Oh, a gathering of some sort, maybe some more familiar animated faces, or maybe in the style of Caballeros a crowded room of people dressed to the nines, singing gleefully and dancing with Donald." That is not what I got. What I got was part PeeWee's playhouse, part Twilight Zone with humor that made me laugh out loud and (thankfully) enough childlike innocence to make it all seem okay! And the further it went, the more okay it was.
The "party" (I can't even call it a party without putting it in quotations) is made up of a young girl in a pink party dress, actor/ventriloquist Edgar Bergen, and his two ventriloquist dummies. They're sitting in a parlor, in party hats. Bergen is putting on a hand-puppet show for his guests and then offers to tell them a story, which eventually leads to his narration of Mickey and the Beanstalk. The girl refers to him as "Mr. Bergen", and there is no real mention of the occasion other than they're all dressed up, and there is cake. But who is this guy to her!? Is he the neighbor? A trustworthy family-friend? Why is this sweet little girl at his house with his dummies for this intimate evening event and why isn't Jiminy Cricket questioning it?!
Then there's the dummies. Their rendering is the classic dummy style, which is probably how all ventriloquist dummies looked 80 years ago but is completely unsettling now. One look at these guys evokes just about any and every depiction of a dummy or puppet in a horror flick for the last 50 years. Disney/Pixar even pokes fun of how creepy this style of dummy is with "The Bensons" dummies in Toy Story 3. It's a good thing that their witty quips and interjections are (unexpectedly) hilarious.
With the perplexing pairing of the girl, the middle aged man, and the dummies, time didn't exactly age this sequence well, but luckily, the puppets are actually funny, and what it loses in relevance is regained if you can make it past the creep factor to get an ironic laugh out of it.
This film is perfect for a lazy afternoon. Queue it up and enjoy if you're looking for something classic that may be new to you but feels like a memory all the same.